Mig Fuzz

The Mig Fuzz
Available for special orders
Price: Horizontal layout Non vintage meter: $299.00
Price: Vertical layout Non vintage meter: $299.00
Price: Vertical layout w/vintage meter: $339.00
Domestic shipping: $10
International Shipping: $50.00
***International shipping is estimated.

***All special orders require a deposit to start.
The remaining balance due will be invoice when unit is ready to ship.
The newly redesigned Mig Fuzz is a classic 4 stage cascading amplifier distortion circuit with a mid range tone control featuring three very useful mods. This unit operates on a standard 9volt power supply (not included)
Mod one: (1st toggle) First stage clipping bypass. When active the tone sounds a little warmer. Its not a drastic change but a seasoned musician will notice the difference when playing.
Mod two: (2nd Toggle) Tone stack toggle greatly changes sound of tone stack and gives the pedal a more classic "Tone Bender" sound.

Mod three: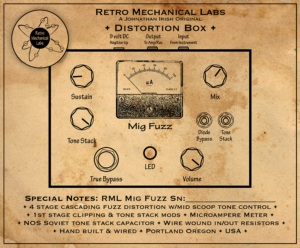 (Mix Knob) This is a repeating theme with RML pedals. It provides a mix between the main distortion and a more gentler overdrive signal. This gives you the option to mix in that more solid signal with your fully distorted signal creating a nice pallet of tonal possibilities. If you love the tone of your amp you don't have to choose between one or the other. This is a highly recommended pedal for recording.
Using some very special vintage NOS parts to create a modern classic:
The Mig Fuzz uses a NOS (new old stock) Soviet capacitor at the heart of the tone stack. The parts are pre tested for accuracy and hand selected. Parts like this are not something you will find in other Fx pedals. We believe the insides should be as unique as the outsides The Mig Fuzz also uses 2 wire wound thimble resistors in the input and output paths. An Allen-Bradley carbon resistor guides your instruments signal in and through a very unusual .22uf capacitor. (Only the next 5 Mig Fuzz units will have this capacitor)
***Retro Mechanical Labs distortion boxes are designed to look like old test equipment of the 1950s while providing a modern sound using a unique combination of vintage parts when possible. Old stock antique meters are for look and feel only and may very in performance.
***Units are always shipped ASAP. If payment is received during regular post office hours, package normally goes out same day.
FINE PRINT:
*If you request special shipping, please contact RML via email at johnathan@RMLfx.com after placing your order.
*INTERNATIONAL BUYERS remember all taxes, tariffs or additional fees are covered by you and your responsibility to pay upon pickup/receipt of item(s). Please check with your customs office for more details.